I somras bilade vi under två veckor vi i amerikanska södern. Från Atlanta till Smoky Mountain, Nashville, Huntsville och så tillbaka till Smokys där vi checkade in på en folkhögskola och bodde i två veckor.

Här kommer en summering av våra absoluta favoriter under resan, helt utan inbördes ordning!
1. World of Coca Cola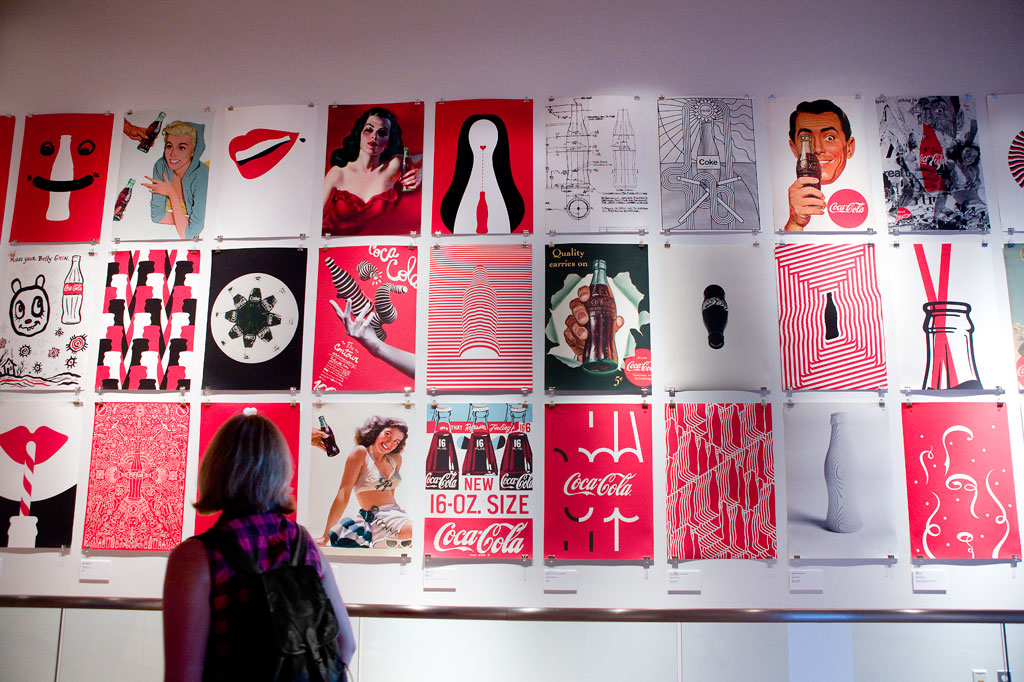 Vår första aktivitet efter att vi landat i Atlanta var att gå på "World of Coca-Cola". Ett spontat beslut eftersom vi behövde komma in från den 35-gradiga hettan, och museet låg centralt. Och ja. Det var ohämmat en hyllningskör till den världsberömda, älskvärda och livsavgörande drycken. Men SÅ roligt! Fick se både Coca-Cola konst, smaka på Coca-Colas över 100 drycker och kramas med Coca-Colas isbjörnsmaskot.
2. Tacos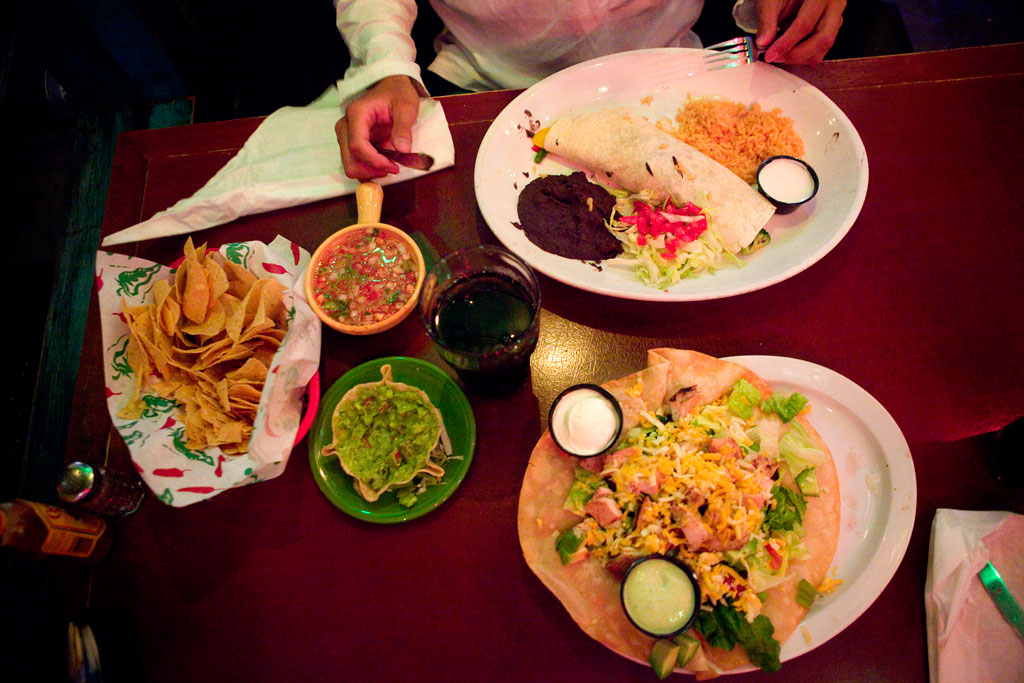 50 procent av restaurangerna i USA serverar hamburgare och 50 procent serverar tacos. Vår bästa måltid på hela resan fick vi dag 2 på "No way Jose's" i den smått galna bergsbyn Gatlinburg. När vi höll på att förgås av hunger efter en heldag on-the-road tipsade vår motellägare restaurangen och när vi kom dit ringlade sig kön lång. Men vi fick en nummerlapp och 40 minuter senare kom vi in! Hungern gjorde väl sitt till men oj oj, de kan det här med tacos i USA!
3. Smoky Mountain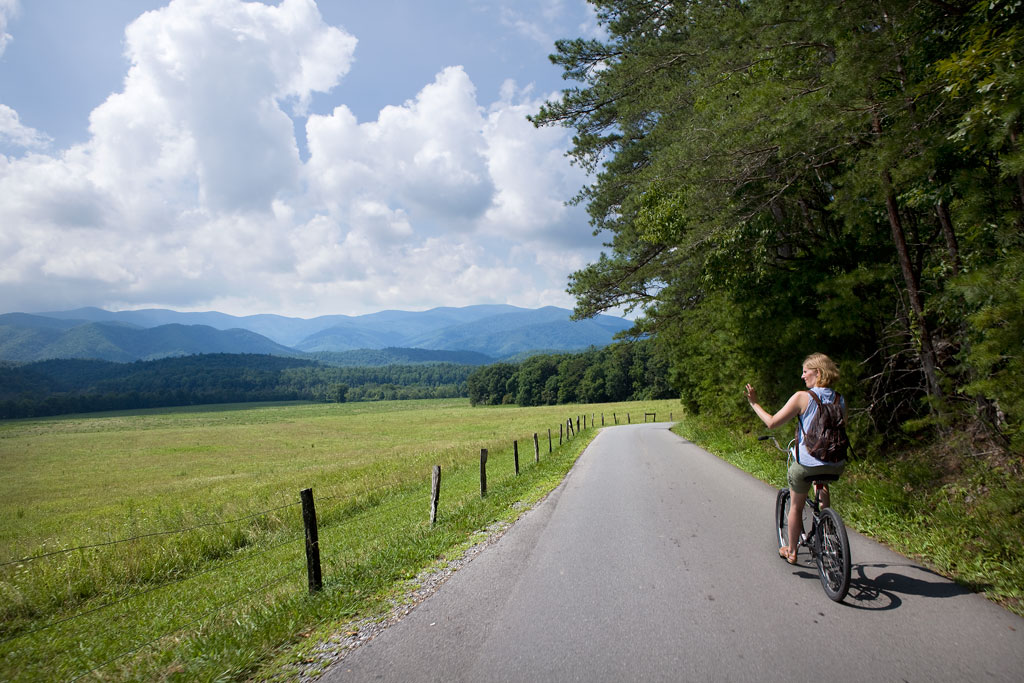 Vackra Smoky Mountain. Böljande blå berg och spännande historia! Här bosatte sig många irländarna och skottar under den stora emigrationen på 1800-talet. Med sig hade de sin folkmusik och tillsammans med influenser från de afrikanska slavarna skapades den amerikanska folkmusiken som senare utvecklades till country och bluegrass.
För att se lite av naturen valde vi att cykla den 1,5 mil långa sträckan "Caves Code". En asfalterad rundslinga med gamla hus och kyrkor som man kan titta på. Som ett utomhusmuseum.
4. Laurel Creek
Längs en av våra bilfärder genom Smoky körde vi längs den virvlande ån Laurel Creek. Där vattnet var grunt hade folk satt ut campingstolar och lät det forsande vattnet svalka. Vi stannade till på ett ställe där vattnet bildat en "pool". Och efter att en 8-årig tjej peppat mig och räknade ner så vågade jag även kasta mig utför klippan!
5. Dollywood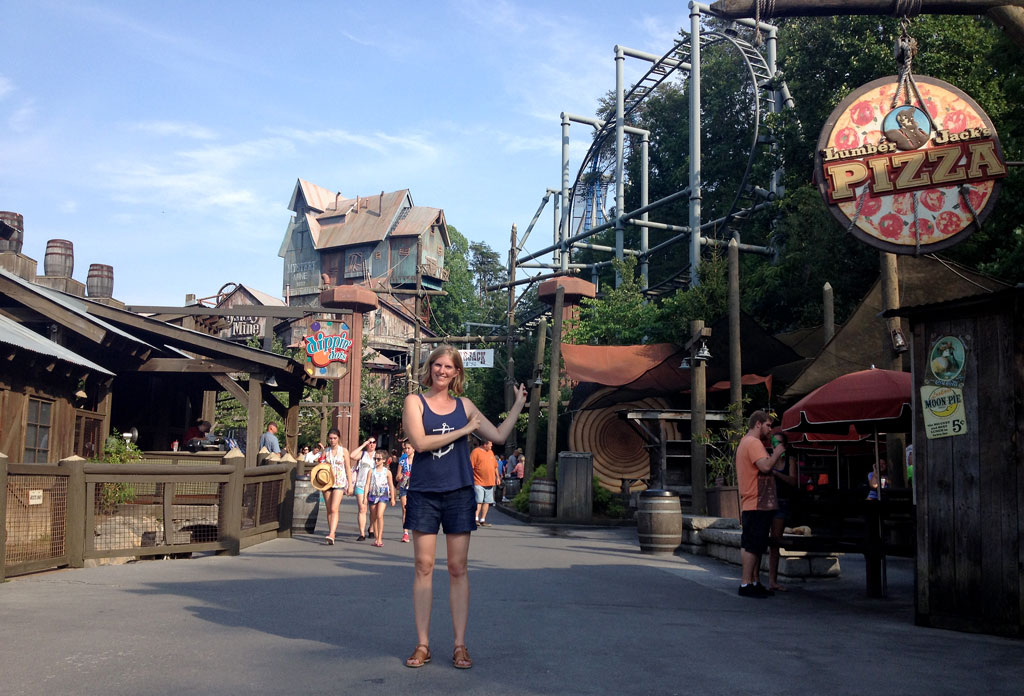 Dolly Parton är född och uppväxt i Smoky Mountain. För att ge något tillbaka till sina hemtrakter har hon byggt en nöjesparken Dollywood mitt ute på vischan. Parken är en hyllning till bergstrakterna, hur livet var förr, country, gospel och hantverk. Vi la allt krut på de stora berg-och-dalbanorna. Favoriten var Wild Eagle!!
6. The Incredible Christmas Place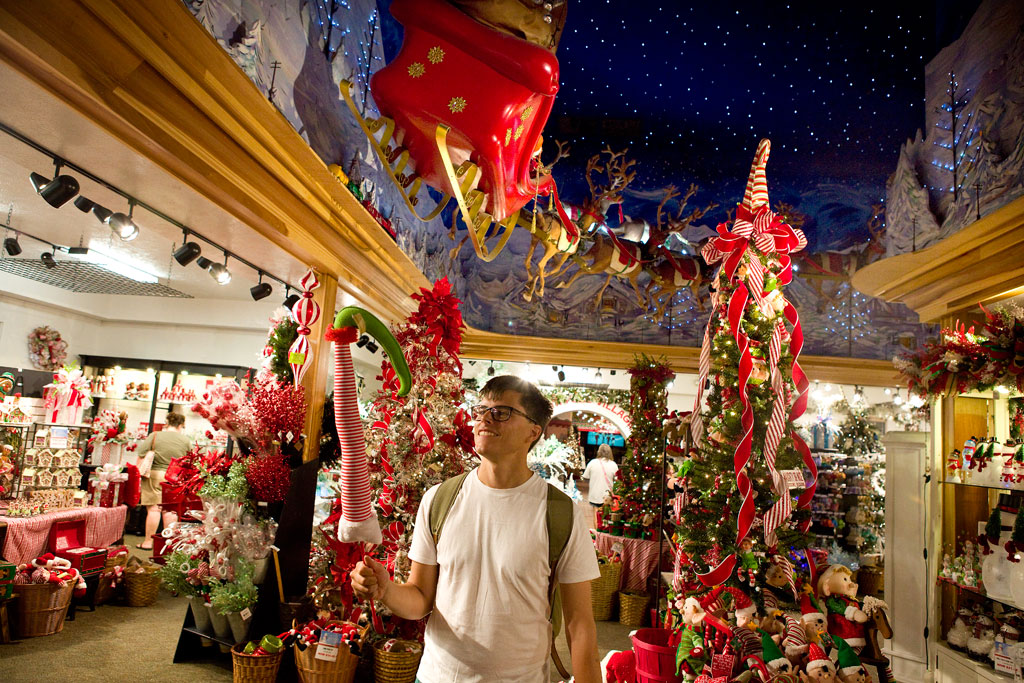 Jag försöker alltid köpa med mig en kula hem till julgranen när jag reser utomlands. Ibland lyckas jag inte, men i USA var det omöjligt att misslyckas! I Pigeon Forge stannade vi till på "The Incredible Christmas Place – the South's largets Christmas Store" och det var himmelriket för en julälskare som mig! Med en affärsyta stort som två fotbollsplaner lyckades vi tappa bort varandra flera gånger. Som väl var hade personalen bra koll på oss två "svenskar" och såg till att vi återsågs. Var trots utbudet hårda i våra val och köpte "endast" med oss tre julkulor hem.
7. Nashville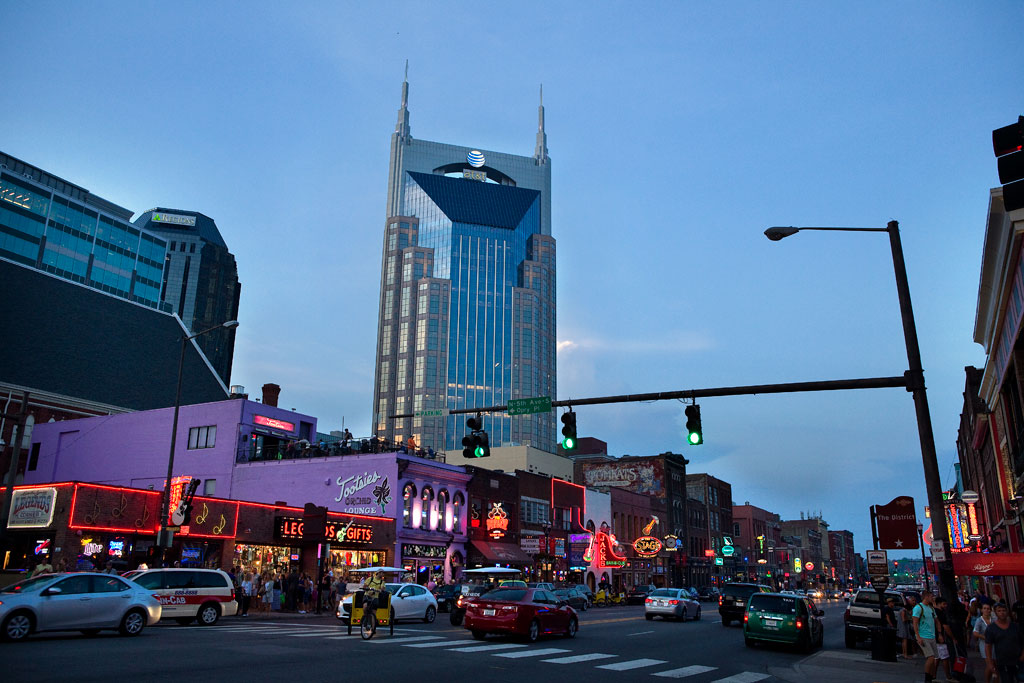 Countryns mecka! Och nu även hela musikbranschens mecka. Här handlar ALLT om musik. Den mest berömda gatan är Broadway som inte är längre än det som syns på bilden. Kort men intensiv. Varje kväll dånar rockmusiken ut från barerna och gatumusiker står i varje gatukorsning.
8. Station Inn
Vi hade läst oss till att Station Inn skulle vara bästa stället för att lyssna på riktigt bra bluegrass i Nashville. Förberedde oss på lång kö, men väl där var stället inte ens halvfullt. Köpte biljett i alla fall, beställde in popcorn, varm choklad och hoppades på bra musik. Och bandet, David parmley & Cardinal tradition, var magiskt bra! Se och lyssna ovan!
9. Persikor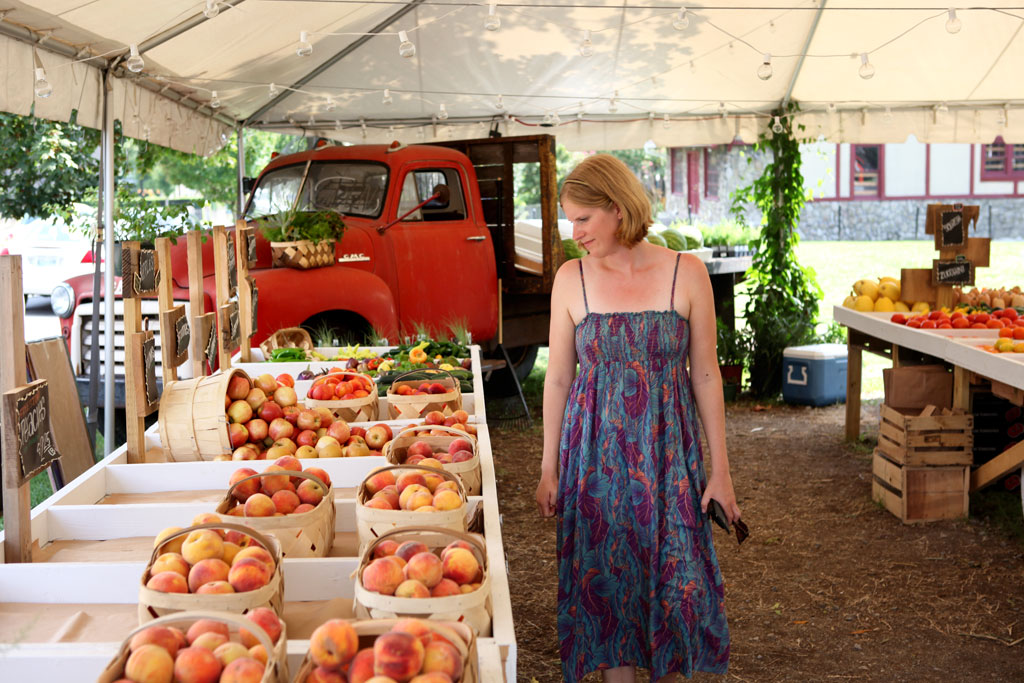 Har aldrig ätit så mycket persikor i mitt liv som i USA! Överallt såldes det färska persikor som var något helt galet söta och saftiga. Staten Georgia, där Atlanta ligger, har till och med valt sloganen "Georgia – the peach state" och alla bilar som kommer därifrån har nummerskyltar med persikor på. Jag vill också bo i en persiko-stat.
10. Country Music Hall of Fame
I Nashville besökte vi museet Country Music Hall of Fame. Fantastiskt museum med intressanta, snygga och roliga utställningar. Utanför fick jag klappa på Dolly Parton stjärna.
11. Ryman Auditorium
Sista kvällen i Nashville hade vi biljetter till historiska Ryman Auditorium. Ryman byggdes som en kyrka 1892 men på grund av stora skulder användes lokalen ofta till konserter eller andra event som kunde dra in pengar. 1925 började man sända radioprogrammet "Grand Ole Opry" från Ryman som då blev känt över hela USA.
Vi köpte biljetterna innan resan till en artist som vi aldrig hört talas om innan. När vi dagen innan gått på Country Music Hall of Fame förstod vi dock att mannen som vi skulle se, Ricky Skaggs, är en legend inom bluegrass.
12. Shopping
Shopping stod inte högt på önskelista men när Nashville bjöd på årets varmaste dag flydde vi in i affärernas svalkande AC. I Hillsboro Village fanns en shoppinggata på ca 200 meter (större centrum än så finns knappt, förstår att de måste ta bilden överallt i USA) men på de metrarna fanns massa roliga affärer och jag kom hem med två klänningar och Rikard en skjorta. Kul!
13. U.S. Space & Rocket Center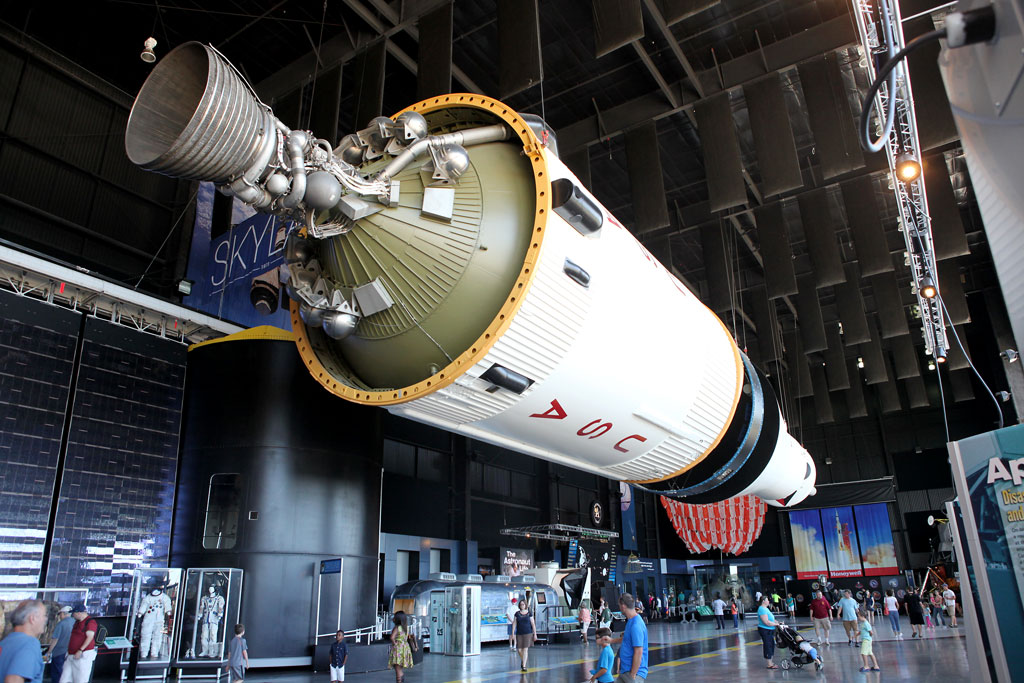 På Rocketcenter i Huntsville byggdes raketerna som skickade upp den första satelliten i rymden, den första människan till månen och ytterligare raketer för fler månlandningar. Utställningshallen är enorm och i taket hänger den typ av raket, Saturn V, som användes vid månlandningen. På bilden syns bara raketens översta del. Vi vart hel tagna av utställningarna och alla saker som fanns bevarade från månlandningen – så när museet stängde klockan 17 hade vi bara sett hälften. Bestämde oss för att komma tillbaka dan därpå och se resten!
Vi kanske inte var lika emotionella som bruden i denna Youtube-film, men nästan!
14. John Campbell Folk School
I fem dagar hängde jag med dessa fantastiska människor! Från att aldrig ha spelat mandolin tidigare lärde han oss alla att spela både melodier och komp till klassisk bluegrass.
15. Hänga på en amerikansk veranda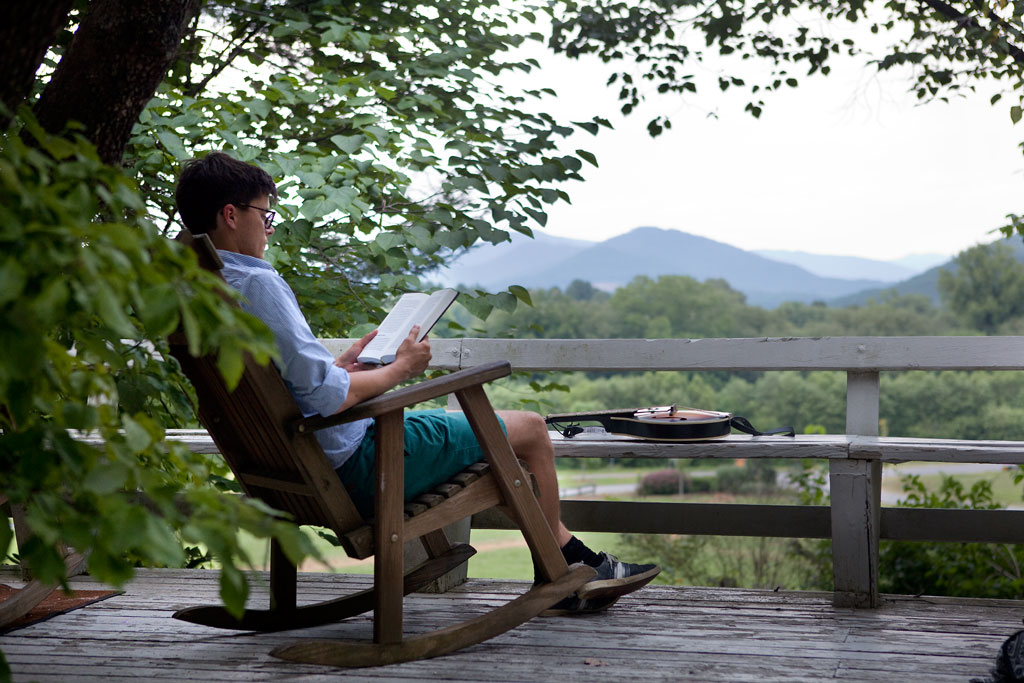 Efter våra lektioner och middag med nyfunna vänner njöt vi på skolans veranda. Läste böcker, plockade med mandolinen eller bara tittade ut över bergen tills solen gick ned. Mumma för själen!
16. Jamma i källaren på en bensinstation
Sista kvällen på skolan fick jag höra att lokalbefolkningen i den lilla byn brukar samlas på bensinstationen för att "jamma" sent på fredagskvällar. Jag och Rikard smög oss dit och helt riktigt. I källaren satt ett gäng karlar och lirade för en handfull fruar och vänner. Första halvtimmen lyssnade vi. Sen upptäckte jag att en av männen hade med sig en extra mandolin. Jag tog mod till mig och frågade om jag kunde få låna den och spela med. Och det fick jag! Och framförallt gick det bra! Kändes som att jag tog examen på riktigt från min mandolinkurs.